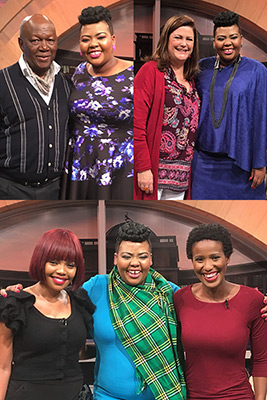 Coming up on
Real Talk
:
Wednesday 17 August 2016
Episode 20: Alison Botha
More than twenty years ago, the brutal attack on Alison Botha made headlines through the country and internationally. She survived the attack and since then strives to motivate and inspire people through her story. Alison Botha talks to Anele about her life and the newly released documentary about her life.
Thursday 18 August 2016
Episode 21: Masechaba Ndlovu
Anele speaks to Masechaba Ndlovu, who was born in Zambia, lived in Zimbabwe moved to the United States of America - all before she turned 8. Today she is a published author, news anchor, music video director, talk show host and award-winning radio show host.
Friday 19 August 2016
Episode 22: Locnville
Twin brothers, Andrew and Brian Chaplin, started Locknville in 2009 but their music careers started much earlier. They talk to Anele about life before Locnville, their time in LA and the current state of the South African and international dance music scene.
Monday 22 August 2016
Episode 23: Tbo Touch
Tbo Touch was born in Thokoza, lived briefly in Joburg and then moved to the Big Apple. He has kept us tuned to Metro FM for the past decade and until recently was the voice behind the station's biggest drive show. Anele gets up close and personal.
Tuesday 23 August 2016
Episode 24 Rape
Guests
Neil van Deventer – Producer Dis ek, Anna
Charlene Brouwer – "Anna" Dis ek Anna
Mara Glennie – Rape survivor and founder of Tears Foundation
Meleney Kriel – Rape survivor and founder of Viva
Dumisani Rebombo – Sonke gender justice
With South Africa's shocking statistics on rape, Anele invites various people with different stories to talk about the topic.
Neil van Deventer and Charlene Brouwer speak about the impact made by their award-winning film Dis ek, Anna. Mara Glennie and Meleney Kriel talk about their own rapes and how it motivated them to help others. Dumisani Rebombo raped a girl when he was only 15, but is now an advocate for women's rights.
Wednesday 24 August 2016
Episode 25: John Vlismas
Besides his comedic career, John Vlismus is also a businessman, a father and a qualified scuba diving instructor. He'll talk about his time in rehab as well as his new show, Revelations 2 The Good Racist.
Thursday 25 August 2016
Episode 26: Depression
An estimated 23 South Africans commit suicide each day. Statistics show that 1 in 3 South African do or will have a mental illness at some point in their lives, and that 80% of these people will go untreated.
Anele unpacks depression with SADAG (South African Depression and Anxiety Group) as well as with actress Vuyelwa Booi who has suffered from depression since childhood.
Friday 26 August 2016
Episode 27: Mfundi Vundla
When it comes to TV in South Africa it would be difficult to mention the greats without mentioning this man. In the past 20 years he has created one of the biggest, if not the biggest, TV shows in South Africa. Two years ago he shut it down just to start it all again. Today Anele chats to the brains behind Generations and Generations: the Legacy.
Monday 29 August 2016
Episode 28 Terry Pheto and Masasa Mbangeni
Anele takes a look the meteoric rise of Terry Pheto, as she talks about how it all started with Soweto informal theatre to the Oscars, being the face of L'Oreal and now to being a producer of the successful film Ayanda.
Tuesday 30 August 2016
Episode 29: Curvy bodies
Guests:
Ouma Thema, other guests TBC
Anele looks at the misconceptions and stigmas around being a fuller-bodied woman. Ouma Thema started her own fashion line for plus-sized women after being frustrated with the lack of fashion choices for bigger women.
Wednesday: 31 August 2016
Episode 30 Hlomla Dandala
Actor and director Hlomla Dandala is a household name in South Africa, so this interview will get South Africans talking. Anele will have Hlomla in the hot seat to talk about his acting and directing career, personal life and his ever-colourful twitter persona.
Real Talk is on SABC3 Mondays to Fridays at 16h00.