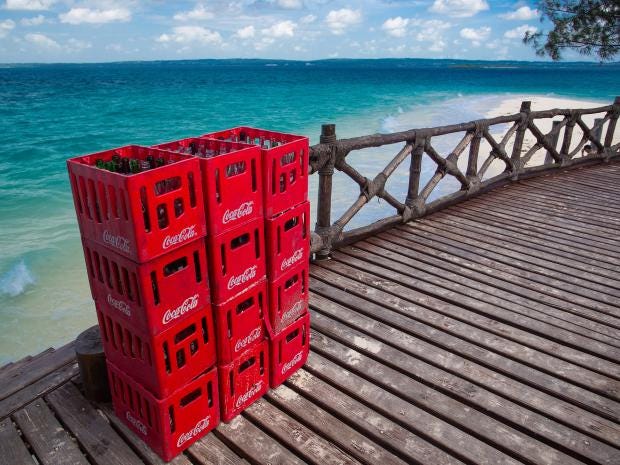 Coca-Cola is among the companies named by Oxfam
The 50 biggest US companies have more money stashed offshore than the entire GDP of Spain, Mexico or Australia, collectively keeping about $1.3trn (£0.91trn) in territories where the money does not count towards US tax, according to a new report by Oxfam.
The revelations come after the European Commission announced plans to make big companies more transparent about where they pay tax.
The charity said the Commission's proposals are "almost useless" for identifying where tax avoidance may be happening. It urged the UK Government to push for stronger rules to ensure that companies pay tax in all countries where they do business.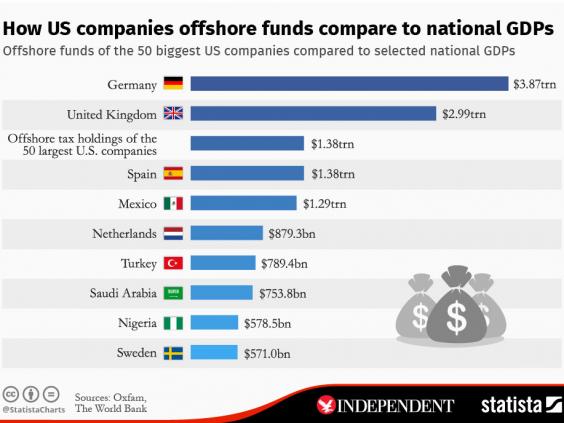 Chart:
Statista
Robbie Silverman, Senior Tax Advisor at Oxfam, said that tax avoidance in the US will have a knock-on effect in countries around the world.
"The same tricks and tools used by multinational companies to dodge tax in the US are being used to cheat countries across the world out of their fair share of tax revenues, with devastating consequences," he said.
"Poor countries are particularly hard hit, losing an estimated $100bn a year to corporate tax dodgers. This is enough to provide safe water and sanitation to more than 2.2 billion people," he added.
0:00
/
1:38 PMQs: 'Unfair' to criticise British-controlled tax havens
In its investigation into the US tax system, Oxfam revealed some of the offshore accounting practices of the biggest companies in the US. Fifty companies including Coca-Cola, Walt Disney, Alphabet (Google) and Goldman Sachs keep a total of about $1.3trn in subsidiary companies registered all over the world, Oxfam says.
The Independent has contacted the companies named above for comment. Goldman Sachs declined to comment, the others did not respond.
The 50 companies are believed to have earned $4trn in profits globally from 2008-2014, but paid only 26.5 per cent of this in tax in the US, below the country's statutory tax rate of 35 per cent. They rely on an opaque and secretive network of more than 1,600 disclosed subsidiaries in tax havens to stash about $1.3trn offshore, Oxfam said. It added that other offshore subsidiaries may be in use but under the radar of the Securities and Exchange Commission, because of weak reporting requirements.
source: Independent