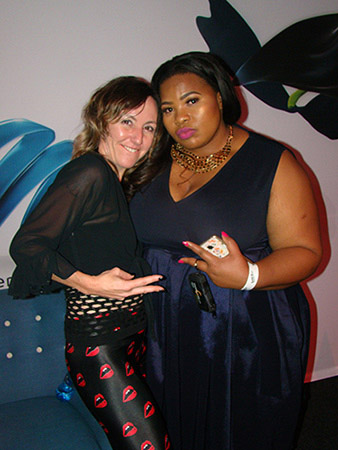 The Voice SA winner Richard Stirton released his first music video two weeks ago, runner-up Gavin Edwards released his first single last week and finalist Thembeka Mnguni will be next.

She'll be releasing her first single this month and her album will be released round about August/September.

I caught up with her at The Voice SA's finale to find out about her album and she turned out to be the perfect ally for my anger. I was feeling iffy and angry for various reasons starting with the plane on the flight to Jozi.

I suddenly felt very frustrated at the voiceover message they play at the end of the flight telling you what you can and can't do because it struck me that they dictate their instructions to people as if you're sheep that they own. Bah!

I was also annoyed at the show for the voting fiasco in the finale so when I heard what Thembeka had to say about her former boss I found an ally in my anger because she was fuming.

I started by asking about her album and then...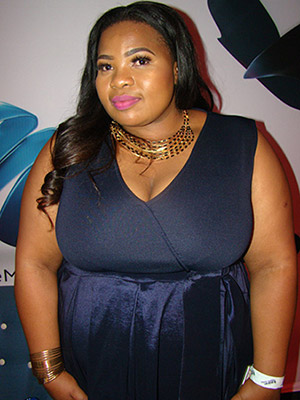 Tashi: What's your album gonna be like?
Thembeka:
I've just spoken to Kevin from Universal and he asked me, "What is it you want to do because I was looking at you from a gospel point of view," and I said, "No sir, not a gospel point of view - look at me from the diva point of view, from an R&B soul type of person."
I want to bring what is in America to South Africa because we also do deserve something like that. I want to bring Aretha Franklin here - I want to bring her through my singing - and Jennifer Hudson and all these divas that are in America. Fantasia - oh my gosh - I wanna
do
stuff like that. Singing like you're crazy on stage like I've been doing.
I want to connect with my crowd - every song must explain each and every situation so a person could say, "Oh! I went through
that
," and I've dreamt of doing such things for so long and finally it's happening and they're listening because they're like, "What do you want to do?" - they're not saying: "You must do this."
I'll bring something to new to South Africa and they'll love it because where has it been??
Tashi: So what happened with your job? (It was her job before she was on The Voice and when the show first started)
Thembeka:
Well, they sort of fired me. It just became such an uncomfortable thing. I think my boss watched me on the Sunday for my very last... I think it was the last battles - he watched it on the Sunday, came back on Monday a different person altogether. It was the wife and the husband running a company and he came back to work totally different - I was like, "What just happened??"
My colleague said, "It's because they watched you," and they made my life a living hell to a point where I had to go to the office to ask them, "What is it that I've done? Tell me what I've done then I can just say I'm sorry."
Then he didn't have anything that he could say that I'd done. Then I was like, "Is it because of The Voice?" and he didn't answer me but he just chased me out of the office like I was a dog. Like *
shouts
*, "GET OUT OF THE OFFICE, RIGHT NOW. GO HOME!"
Then I spoke with my mother and said, "Mom, I need the money, my son needs the money but I can't deal with this."
Tashi: What was the job?
Thembeka:
I was a recruitment specialist.
Tashi: So it was a recruitment agency?
Thebeka:
Yes and I knew that even if The Voice didn't work out I wouldn't be without a job anyway. Then I wrote them a three page letter letting them know exactly how they've made all of us feel - just because you're boss doesn't mean you can treat me like a nobody just because I get from you because I also give
for
you - so it was something like that.
Tashi: Have you heard from them after the letter?
Thembeka:
No, I would never ever. Every newspaper I'm in - they must be like "Aaaaaaargh."
Tashi:
Your revenge!