Acting SABC CEO Jimi Matthews has taken to Twitter to publicly announce his resignation, uploading the letter in question as well. Matthews posted the resignation letter to Twitter, along with a brief message saying "I have quit the SABC".
In the letter, directed to the chair of the broadcasting corportation's board, Matthews said it was with "great sadness" that he has to tender his resignation.
"For many months I have compromised the values that I hold dear under the mistaken belief that I could be more effective inside the SABC than outside, passing comment from the side-lines," he elaborated.
"In the process, the prevailing corrosive atmosphere has impacted negatively on my moral judgement and has made me complicit in many decisions which I'm not proud of."
Matthews also apologised to the "many people" he let down by staying silent instead of speaking out.

"What is happening at the SABC is wrong and I can no longer be a part of it," he concluded.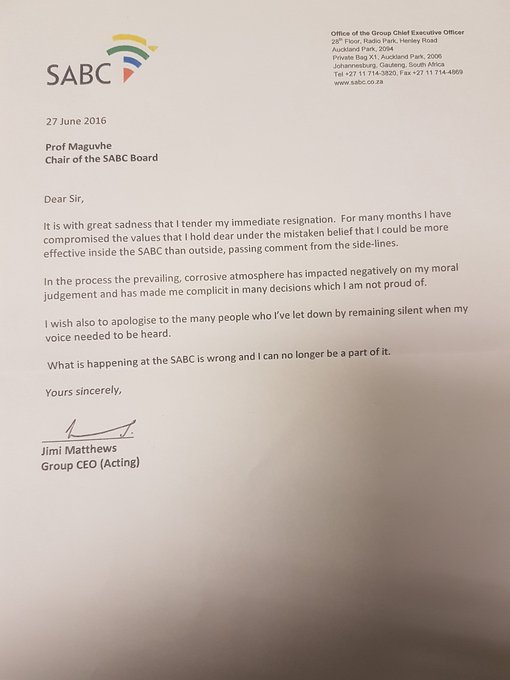 Follow9:40 AM - 27 Jun 2016
Responses to the tweet were mostly positive, as many users lauded Matthews for his stance.
"That must have been hard to write. Perhaps it will turn things to right," tweeted City Press editor Ferial Hafajee.
"All strength, boss. There are many like me who believe in you!" added Cape Argus editor Gasant Abarder.
Several Twitter users also noted that the SABC wasn't covering Matthews' resignation.
source: memeburn